The focus of SmartOps is on moving the needle regarding "how" business operations can be transformed. To take full advantage of these opportunities, SmartOps requires its own lifecycle and maturity model...
What is SmartOps?
An Introduction to Smart Connected Operations
Operations optimization, or SmartOps, is the most impactful segment of the Industrial Internet of Things (IIoT), as it accounts for 7 of the Top 15 Operational KPIs. 72% of manufacturers have partially or fully implemented a smart factory strategy today. Similarly, nearly two-thirds (65%) are in various stages of implementing their IoT strategy. [IoT Analytics]
Without context, IoT means everything and, at the same time, means nothing. The context here and now is that IoT is improving the efficiency and productivity of business operations through the use of connected sensors and devices. It's the biggest growth area we're seeing in IoT, with data insight driving clear business value.
SmartOps includes settings and use cases that span factories and industrial environments, to work sites and smart buildings to smart cities and outdoor lighting infrastructure.
SmartOps, a.k.a. Smart Connected Operations or SCO, leverage IoT technologies to generate insights and continuous improvement at scale. SmartOps capabilities enable new business models and can dramatically improve operational performance.

Not unlike DevOps, SmartOps is a set of practices that combines IoT automation technology with ongoing business operations processes to achieve operational excellence.
Smart Connected Operations vs. Smart Connected Project
Since Michael Porter introduced Smart, Connected Product (SCP) in 2014, it has largely driven the "what" of IoT – more specifically, the definition of what a great IoT product should be.
Porter defined four (4) areas of SCP capabilities that progressively build on each other: monitoring, control, optimization, and autonomy.
Our experience is that many companies are focused on building smart, connected products, but with very little focus on operational excellence. We also see tremendous opportunities to improve operational excellence using IoT, even if connectivity isn't a feature of your end-product.
Unique benefits of SmartOps include:
Environmental, social, and governance (ESG) drivers

Sustainability improvements

Business and product scalability

"Product-as-a-Service" enablement, which can remove middleman layers (i.e., distributors, dealers, etc.) for direct contact with end-customers

More effective partnerships
The focus of SmartOps is on moving the needle regarding "how" business operations can be transformed. To take full advantage of these opportunities, SmartOps requires its own lifecycle and maturity model.
In the Smart Connected Operations world, these capabilities transform into six (6) stages of lifecycle maturity: monitoring, control, insights, optimization, augmentation, and autonomy.
While each stage builds upon its predecessor as in Porter's SCP model, the final stages of SmartOps comprise imminent advancements. Most companies will mature one stage at a time; however, as the technology solutions become more mature, companies will be able to jump-start or skip early stages by purchasing a solution that combines these capabilities.
SmartOps Stages of Maturity
Regardless of the hardware or technology, there is a natural progression of enabling IoT and optimizing operations, with six key stages of sophistication.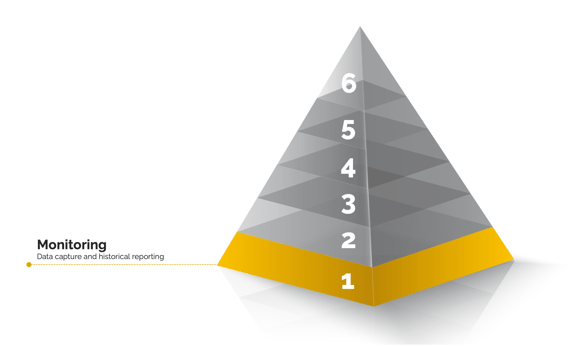 1. Monitoring
Data capture and historical reporting
The first step in achieving optimized operations is collecting data and monitoring data over time. It requires network infrastructure and deployment of IoT devices to collect data, and it implies storage of data with some basic monitoring capabilities to display time-series based information. Value comes from human analysis of the raw data.
This stage is the "kindergarten" of SmartOps. It can be skipped initially, yet the function of continuous monitoring is critical for every other stage in the maturity model.
Example Use Cases:
Air quality monitoring
Horticulture environment systems monitoring


2. Control
Asset visualization and remote management
This stage is about automating changes that have historically been manual, e.g., lighting control. It requires actuators or controllers in addition to sensors. It also implies a level of near-real-time and timed-control functions including scheduling events and scenes (configuration rules).
Example Use Cases:
Automated lighting control

Production line power management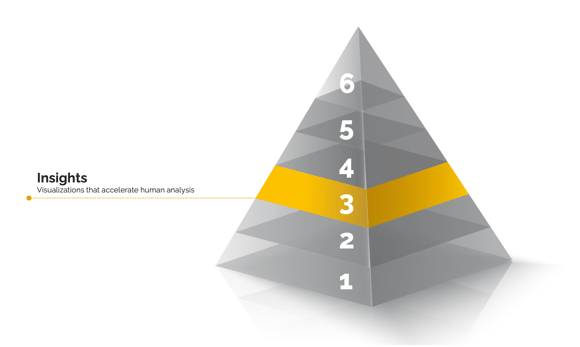 3. Insights
Visualizations that accelerate human analysis
This stage is about gaining a deeper understanding of the data, a.k.a., descriptive analytics. It requires processing and basic analysis of historical data, with the ability to visualize the results across different time periods and categories. One example output might be Pareto charts of equipment groups vs. simple time-series graphs.

Example Use Cases:
Energy monitoring and management

Equipment monitoring

Operations historical analysis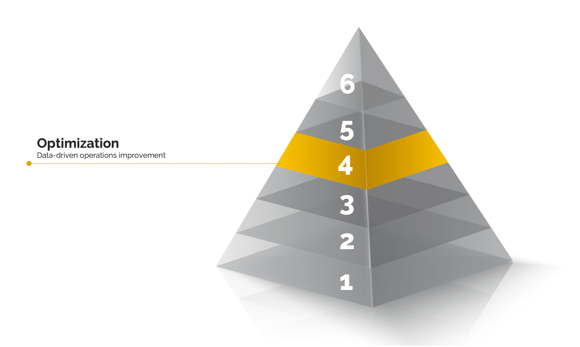 4. Optimization
Data-driven operations improvement
This stage leverages insights data and advanced algorithms (a.k.a., Predictive Analytics), which often leverage Machine Learning AI to analyze and predict future outcomes. This requires data pipeline processing and flexible algorithm deployment. While some aspects of predictive control are enabled, decisions are still made by humans at this stage.
Example Use Cases:
Predictive maintenance


Anomaly detection – minimizing equipment failure





5. Augmentation
AI-enhanced decision making
This stage melds human user experience (UX) and machine learning capabilities, leveraging virtual/augmented reality (AR) technologies to super-impose data on real-world equipment, material, and resources. Explainable AI and prescriptive analytics are heavily leveraged to direct actions. Humans continue to make key operational decisions, but they can do this substantially faster at this stage.
A key focus in this stage is Explainability, a.k.a., Explainable AI, which is crucial for building trust and confidence in an organization when putting AI models into production. Simply put, Explainable AI is a set of processes and methods that allows human users to comprehend and trust the results and output created by machine learning algorithms. It's used to describe an AI model, its expected impact, and potential biases – and it helps characterize model accuracy, fairness, transparency, and outcomes in AI-powered decision making.
Example Use Cases:
Enhanced worker productivity

Real-time equipment analysis & parts provisioning

Compliance auditing

6. Autonomy
Autonomous operation
Ultimately, the ideal optimization is achieved when optimization decisions can be made automatically with trusted and explainable AI, whether supervised or unsupervised. This requires advanced levels of reinforced machine learning. A highly visible example of this capability is self-driving consumer vehicles, which are on the brink of mass deployment, yet not quite there due to technical and non-technical industry challenges. However, industrial warehouse packing robots have been in production for some time – and these continue to provide tremendous value.
Autonomy also implies integrating and managing multiple factors. For example, automatically managing the environment of an industrial facility might include many factors such as controlling many HVAC units, fans, relative humidity and temperature sensors, air quality sensors and integrating weather conditions. An autonomous SmartOps environment will take all of these factors into account and automatically adjust the conditions for optimal operations.
Example Use Cases:
Autonomous Robots, not to be confused with programmable manufacturing robots

Autonomous Environment Management
Evolving Your Ecosystem
For most organizations, operations optimization will evolve at a use case level. Some use cases will mature faster than others. There is no single system that can manage all aspects, though some may claim to do so. The reality of our ecosystems today is that they are distributed by nature. For the foreseeable future, Smart (IoT enabled) Operations require an ecosystem of interconnected systems and IoT devices that work together – continuously improving and adapting to deliver desired operational outcomes.
In our next article about SmartOps, we will explore the capabilities and enabling technologies of each stage in this maturity model.
Shawn Davison
DevIQ, March, 2023