Q2 2023
DevIQ QUARTERLY REVIEW
Delivering rapid value via Data Science project execution, our new AWS video, getting started with Data Strategy, and celebrating customer success. Plus, new team members, tech certification achievements, and open positions!
DevIQ on MLOps: Efficient Project Execution
Efficient Machine Learning Operations (MLOps) project execution streamlines work and helps teams rapidly deliver more value through workflows, development, testing, and experimentation. In part three in our series on MLOps, DevIQ's Data Science Lead, Benjamin Johnson, Ph.D. shares best practices for applying DevOps project execution principles to data science projects. Read the article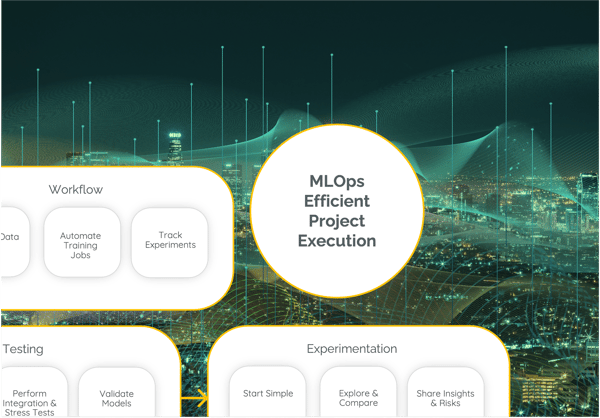 New Video: DevIQ + AWS Modern Cloud Solutions
How do we explain our team's AWS expertise and track record in just two minutes? This animated video tells the DevIQ + AWS story straight up: What we do, what we know, and what customers say about partnering with us for modern cloud solutions. Watch the video and learn more at DevIQ.io/aws.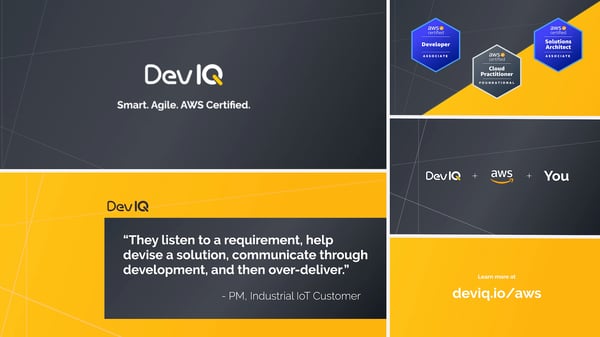 Data Strategy: Starting Small to Go Big
Data Strategy helps ensure that data is managed and used like the valuable asset it is. While an organization should take a holistic approach to adopt a long-term data strategy – with optimized technological investments, people, and processes – to enable continuous business growth, we've found a streamlined assessment to be a cost-effective and empowering first step for our customers' leaders and teams. In our two-week Data Strategy Assessment, we deliver on five key areas related to data strategy: Business Alignment, Governance, Organization, Architecture, and Tool Selection – including a 2-day workshop to dig in to key business objectives, personas, and the current IT systems and data landscape. If you're interested in kickstarting business value with a comprehensive data strategy, let's talk shop.
Featured Customer Launch
We're very pleased to celebrate Sustaio's Q2 platform launch, after partnering with the climate start-up champion to engineer a sustainable AWS serverless infrastructure.For this collaboration, DevIQ served as an extension of Sustaio's team, has been a tech & operations playbook success story. As cloud software and data engineers, we designed and implemented a serverless backend & service layer to support Sustaio's consumer and merchant experience. Our AWS Certified team also partnered like a fractional CTO, helping Sustaio to scale expert resources up quickly and bring its vision to life. DevIQ is "driven to improve life," and we're proud to work with example-setting companies like Sustaio, whose mission is "to empower humans to achieve climate-smarter living." Check out Sustaio's innovative rewards program and inspiring story (and create your account!) at Sustaio.com.

Welcome New DevIQ Team Members!
Nathan Lomax – Senior Software Engineer
Vikram Vasan – Software Engineering Intern
Celebrating our People: Certifications
DevIQ team members have earned or renewed nine certifications in Q2, including AWS Certified Solutions Architect, AWS Certified Cloud Practitioner, and Certified Scrum Master. We continue to be very focused on growing our certification base as we expand our cloud technology partnerships. Learn more about our AWS Cloud and Azure Cloud Partnerships and certifications.
We're Hiring!
We partner with passionate companies focused on reducing energy consumption, curing disease, improving education, building smart cities, and more. From true innovation and synergetic partnerships to competitive full-time benefits and a strong team culture, DevIQ is a great place to work. Learn more & see current job openings