CaseWorthy is a flexible platform designed for human services organizations and built for the way you work. The software keeps all of a nonprofit's data in one place, making it easily accessible and interconnected.
Challenge
Rebuilding a highly customizable legacy claims management system. User experience was degraded, and data reporting and analysis was difficult, slow, and unreliable.
Solution
A modernized legacy on-premise SQL Server and SSRS environment, leveraging the Azure Synapse Analytics cloud services. We developed modern data pipelines to move data to a Data Lake and transform the data into reporting datasets, suitable for advanced analytics and ad-hoc reporting via Power BI.
Technologies
Some of the technology expertise used in this project include:
Azure Data Lake

​

Azure Synapse Analytics

​

Azure SQL

Azure Data Factory

​

REST APIs

​

Power BI






Result
Unlocked client data, which had been stuck in poorly performing, on-premise OLTP systems. Cleaned and created efficient datasets were made available to end user and business analysts so they could generate timely reports and perform advance BI operations.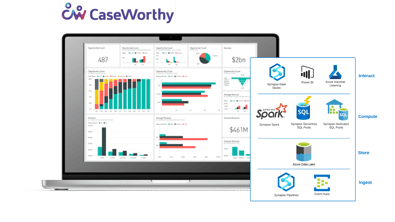 Visit Caseworthy's website to learn more.