Digital product strategy, design, and engineering
What's your next move? Whether you're testing the waters of innovation or diving in, let's have a conversation about what's important, what's possible, and how quickly DevIQ can get you there.
Application Platforms
Public APIs
SaaS Modernization
Headless Systems
Evolving Architectures
Secure Deployments
Continuous Delivery
User Experience Design
CX, UX, and UI
Design Thinking
Human Centered Design
Screen, Touch, Voice
User Research
Usability Testing
Data Strategy, Engineering, and Science
Data Strategy & Vendor Tool Selection
Modern Data Platform Architectures
ELT Pipeline Planning & Development
Algorithm Development & Machine Learning / AI Modeling
Advanced Analytics & Visualizations
Industrial IoT Ecosystem Design
Product-as-a-Service Design
Control System Integration
Dashboards & Visualization
Digital Twin Engineering & Analytics
Predictive Maintenance Modeling
End-to-end starts here.
Working with DevIQ, you'll find we're as committed to flexibility as we are to predictability. Our process is based on disciplined Agile with continuous delivery, which reduces complexity and risk – and makes room for an iterative, adaptive, design-thinking approach to innovation.
This is how we keep value in continuous motion for our customers: Delivering micro and macro adjustments in a continuous stream of excellence, transforming uncertainty into certainty in real time, staying ahead of problems, identifying next best steps, and fixing it forward.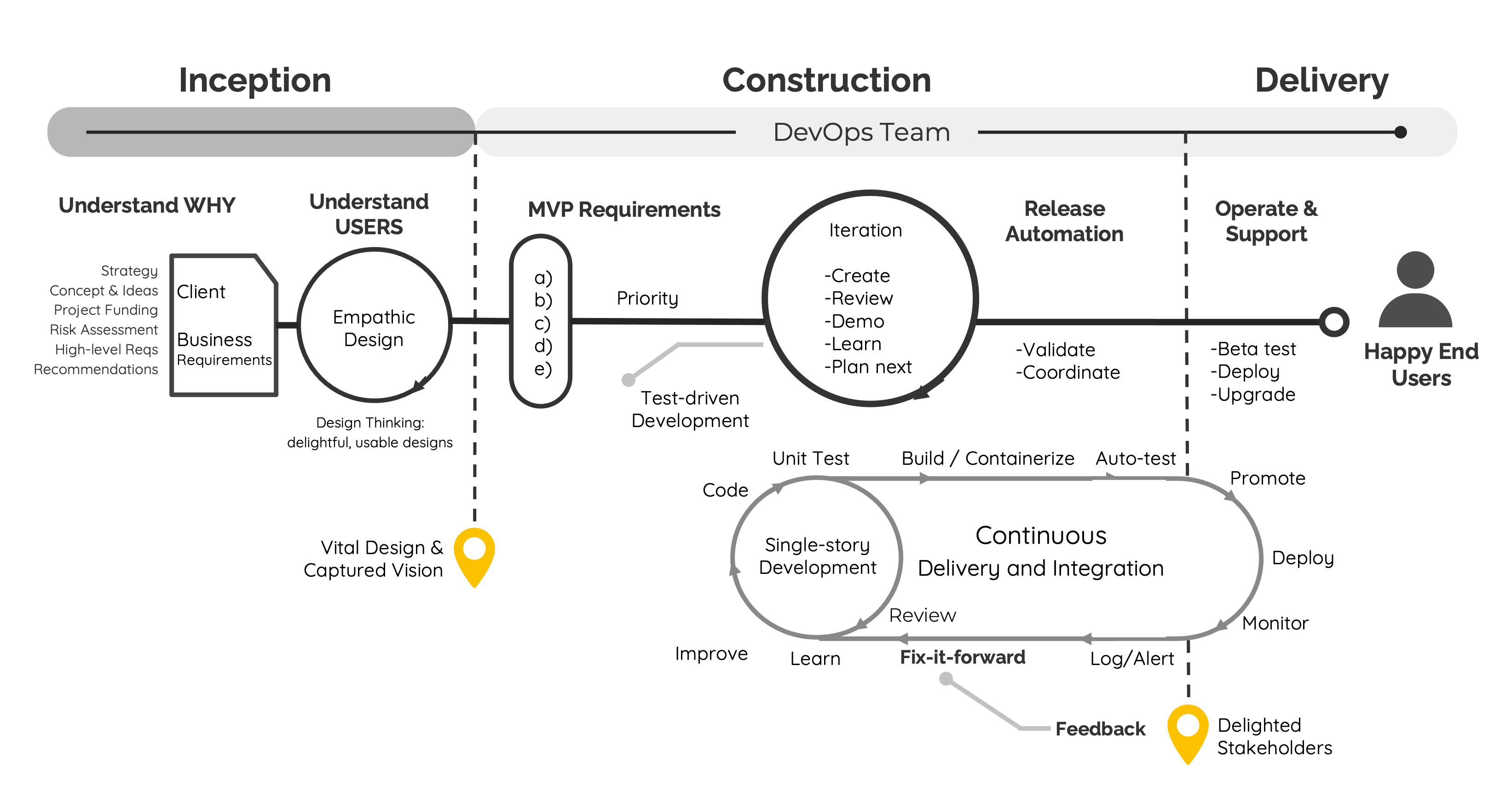 Featured work
We specialize in smart product engineering that drives transformation for our customers – and their success is truly our success. A selection of case studies is included in our Insights section, with many more available by request.
"DevIQ is the technology partner that allows your company to bring products to market and to compete in a saturated, complicated space – even if you don't consider yourself a technology company."
"DevIQ brings a level of excellence in their technical skill, creative solutions, and professional service that exceeds anything else I've come across in the consultative and development world."
"DevIQ has been our trusted IT partner for 7+ years. From custom software development to cloud infrastructure and deployment to, now, data science applications, they've always had the needed expertise and ability to execute."
"DevIQ brings together a world class team in every area needed to build technology that shapes the future. They have an incredible mix of technical skill, product vision, project management, and operational excellence that makes partnering simple and synergistic."
"DevIQ has enabled us to focus on our core competence and given us confidence that we can innovate and compete with the "big guys" in our space."
"DevIQ is incredibly customer focused. They consistently go beyond what we've asked for to fully immerse themselves in our environment and deeply understand our needs. Their network has also benefited us tremendously."
"It was not out of the ordinary for our product roadmap to take sudden turns in unexpected directions, and the DevIQ team was always capable of meeting the challenge no matter what it was."
"DevIQ has seamlessly developed multiple complex applications for us – integrating multiple systems, services, and platforms. All of the work has come out visually beautiful and the development process was seamless."
"DevIQ has been a true partner in understanding and helping shape our vision for stronger customer engagement, and making that vision become a reality."
"We knew from the beginning DevIQ was different. They are able to jump in and add value immediately at any stage of your project. They are never short sided in their recommendations, they are always positioning your company for the future. [This team] is our go-to development partner."